Facing religious persecution, the minority Hindu population from Pakistan has been fleeing and seeking refuge in India since the time of the partition. As radicalization increases in Pakistan, the number of people escaping atrocity also increases in the same proportion.
These persecuted people emigrate from Pakistan each year to escape discrimination, denial of equal development rights, violation of human rights and forced conversions. While being in Pakistan, the girls felt unsafe, and all of them faced pressure to convert, one immediate negative coping mechanism was to drop out from schools.
Most come from the Sindh province, where the Hindu population in Pakistan is concentrated. Largely these migrants owned land and did farming in Pakistan. Generally, these refugees arrive at valid pilgrim visas, then seek extensions through long term visas month after month.
The Government of India has administrative arrangements for Pakistani Hindus; they may obtain long-stay visas but they are not considered as refugees by the government.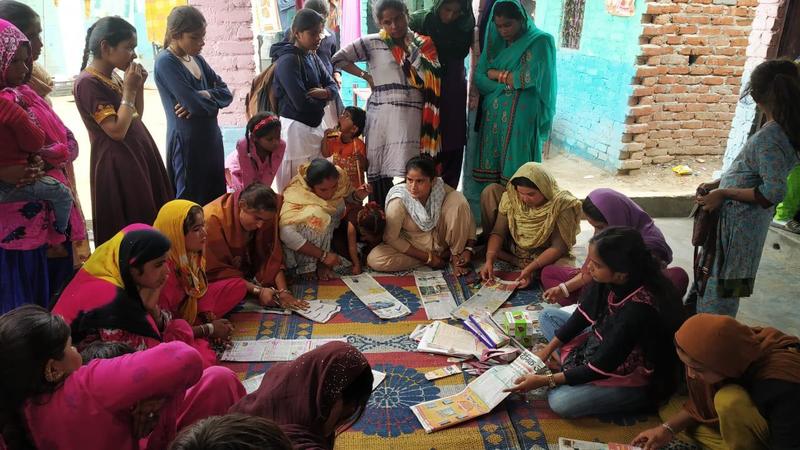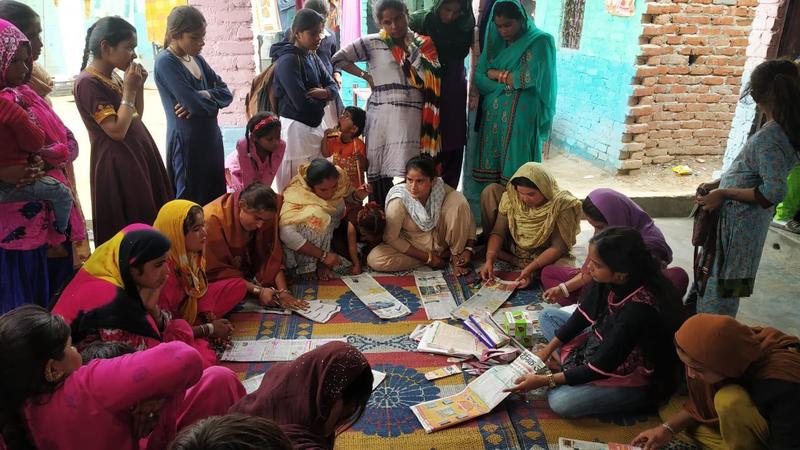 There are almost 400 Pakistani Hindu refugee settlements scattered around India. Delhi and Jodhpur have one of the maximum numbers of the refugee population that have arrived in the last two decades. About 4,230 people, who have migrated from Pakistan in the past five years, are housed in camps in Delhi and Rajasthan.
Refugees in the Majnu ka Tila camp have been arriving in India since 2013 while those living in Signature Bridge camp have been arriving since 2018. As of now 140 families (700 persons approx.) are residing in the Majnu Ka Tila camp and 85 families (350 persons approx.) are residing in Signature Bridge camp. While in Jodhpur there are 21 camps of the migrants in which around 18,000 non-citizen migrants and 12,000 citizen migrants have been staying.
Out of these camps in Jodhpur, five camps are in dire need of support for health, livelihoods, education, legal aid and basic amenities. The details of these five camps are as under: 1. Gangana main (200 families), 2. Gangana 2 (100 families), 3. Chokha (70 families), 4. Marwad Nagar (80 families), Kali Beri settlement (100 families).
We, at HAI, are rigorously working towards the comprehensive development of refugees in Delhi and Rajasthan through activities across the domains of education, health, livelihoods, basic amenities and legal assistance to ensure their eventual integration in India as healthy and productive citizens.
Current situation of Pak-Hindu refugee camps in India
Affected refugee families are facing the following major problems at this time in the camps:
Washing facilities issues
Lack of bathing facilities/ infrastructure
Lack of a waste collection and disposal system
Health risks and skin conditions due to poor drinking water quality
Fluctuating drinking water supply
Absence of toilet infrastructure leading to open defecation
Lack of communal handwashing stations
Education related issues
Lack of infrastructure and services of Anganwadi: Children below 6 years are unable to receive pre-school education and services such as (i) supplementary nutrition (ii) Pre-school non-formal education (iii) Nutrition and health Education (iv) Immunization and vaccination (v) Health check-up and (vi) Referral services for 0-6 years of children
Refugee children facing difficulties in getting admission at public schools due to lack of Indian identity documents
Children are unable to compete with their peers due to their admission in school on the basis of age than academic levels
Banks refuse to open bank accounts for some of the children, preventing them from enrolling in school and receiving benefits such as uniform/book allowance
Lack of transportation to the closest schools is the major reason for absenteeism in school
Lack of awareness/ unwillingness among refugee parents not allowing their girls reaching the puberty age to attend formal schools
Protection remains a concern for children since they have to walk through the forest to reach schools
Health related issues
No/irregular ASHA worker visits the camps
Cases of malnutrition among refugee children
Lack of access to clean water leading to health issues such as kidney stones and skin infections
Lack of awareness on health and hygiene among the refugee population
Poor water, hygiene and sanitation conditions in the refugee camps
Lack of waste collection and disposal system within the camps, further posing health risks
Common health issues prevalent among the refugee population are hypertension, kidney stones, skin infections and diabetes
Immediate Action required to help the refugee families
Urgent need for mobile toilets since camp residents, especially women and children, have to resort to open defecation in the nearby forest
No electricity in the camps except for the solar lights installed by HAI which has its own limitations. Approaching summer and extreme heat remains a concern along with need of more water supply points
Schooling of children with special needs is the utmost priority
Psycho-social counselling to refugee parents to encourage them to send their children to school and receive formal education
Supporting the drop out adolescents to resume education
Since Signature Bridge camp is located in a remote location in the middle of a forest and the women and children belong to a vulnerable population, protection remains a concern
Improved housing by providing refugee families with local materials so that the families could improve their current living conditions
Restoration of toilet blocks, bathing space, water points, internal pavements, drainage and garbage disposal system remains the major concern
HAI in Action
Livelihood Support: HAI is supporting skill training, entrepreneurship & business training, establishing market links for the sale of products and establishing a group of women producers to improve livelihood and employability among, with a focus on the creation of a Training-cum- Production Centres for women's groups, skill training for adult refugee men /youth through skill training schemes and programmes, marketing support to refugee businesses along with entrepreneurship & business training.
Education support activities: There is a strong need to provide education for youth who have missed educational opportunities at home and need basic literacy/numeracy education and to acquire a productive vocational skill. HAI is engaged with building remedial education centres for children of school-going age, higher and tertiary education support programmes for refugee youth and adolescents and arranging adult education classes for refugees on language, literacy, numeracy and financial literacy.
Creation of legal aid, awareness and documentation support centres in each camp: HAI is working towards establishing legal support centres managed by one advocate and camp administrators. The legal support centre will be responsible for undertaking activities like the creation of legal aid, awareness and documentation support centres in each camp.
Long term action plan
Need-based relief support
Long-term livelihood activities
Psychosocial health care support
Local employment generation with a focus on skill development for the refugee population
Adoption of community approach to limit dependency
We have created this video report on the condition of Hindu refugees from Pakistan. Please watch it and share it on social media so that more people are aware of this humanitarian issue
Here are some pictures from HAI team's visit to Pak refugee camp in Majnu Ka Teela in Delhi.