Drone, in disaster response sector has recently emerged as a force multiplier in enhancing outreach of humanitarian responders during pre-disaster and post disaster.
Post Covid19 era, multi hazard risk handling capacity is increasingly becoming complex, drone along with associated technologies came with multifarious applications like surveillance, public awareness, covid19 tracking and tracing, logistics delivery, PDNA, ambulance service etc.
Humanitarian Aid International (HAI) was at forefront responding live to disasters from Cyclone Fani in Odisha (2019), Bihar Floods (2019) Cyclone Amphan (2020) (West Bengal) Jaipur floods, Odisha (2020) to ongoing Covid19 response. HAI efforts resulted in setting up a collaborative platform Tech4Aid for innovative and wide ranging usage of drones in disaster management.
DfH, conceptualised and launched in 2019, having prominent techno-humanitarian actors as members, is an attempt in that direction. The DfH has been envisaged with the following four features:
Post-disaster damage & loss assessment
Search & rescue support to disaster response forces (both humans and animals)
Airdropping of lifesaving aid
Digital mapping of vulnerable zones
Activities and achievements of HAI's Tech4Aid platform
Here are the activities of HAI's techno-humanitarian platform "Tech4Aid"
One multi-stakeholder workshop was conducted in Bhubaneshwar in August 2019 where the concept of Tech4Aid and findings of the first pilot drone based PDNA was shared and developed. Participants included humanitarian aid workers, technology professionals specialised in UAV applications, the govt. and knowledge institutions.
Drone based PDNAs
Drone based PDNAs were successfully conducted in Odisha, Assam, Bihar and West Bengal:
PoC in Odisha
One multi-stakeholder workshop was conducted in Bhubaneswar in May, 2019 where the PoC was displayed through a short presentation to a large group of Senior Government Officials of the State of Odisha (Chief Secretary and some 17 Senior Secretaries of the Government attended it) where the idea got highly appreciated. This encouraged the HAI-Tech4Aid team to intensify its efforts.
Assam Pilot
Another Multi Stakeholder workshop was conducted in Kaziranga University, Jorhat, Assam in August 2019 where the findings of the first pilot drone based PDNA done in Golaghat in Assam was shared. Participants included humanitarian aid workers; the overwhelming applause came from the technology professionals of the University, the civil society leaders, the local government functionaries and the community leaders that led to further work.
This pilot exercise was primarily limited to digital mapping of the disaster affected area using drones in 8 villages. Stakeholders were enthused by seeing the generation of high resolution digital maps of various features and elements in a targeted manner. This led to the search for mechanism to analyze it qualitatively as well as quantitatively. A short film can be viewed here and the report here.
Bihar Pilot
Drone-based mapping of the disaster-affected area was undertaken in Bhagalpur district for Caritas India in the aftermath of the floods in September 2019. The drone footage was live streamed to inform stakeholders for real-time response. The concept of live UAV based mapping as a decision support system was introduced. A short video can be viewed here, proof of concept for drone-based PDNA here and report here.
West Bengal Pilot 1
Drone based mapping was conducted in Sunderbans in the aftermath of Cyclone Bulbul in November 2019. Local community and government institutions (PRIs) were involved as a part of the mapping and micro-planning process. See the short film here, and the report here.
West Bengal Pilot 2
Another drone based mapping was conducted in 30 locations in Sunderbans, West Bengal in the aftermath of cyclone Amphan, 10-15 feature/elements were captured using drones and based on that loss percentage and damage assessment was done by our analytics team. See the short film here, the report here and PPT here and photos here.
Odisha pilot
Another very recent PDNA was conducted in 23 affected villages of Jaipur district in the aftermath of floods in Jaipur (August2020).The district experienced unprecedented rainfall for three days (30th Aug-1st Sep) as a consequence most of the villages and towns their got flooded, the disaster was completely overlooked by mainstream media. HAI together with its local on ground partner carried out a detailed damage and loss assessment to plan for a proper relief and recovery programme. A short video can be viewed here, PPT here and report here.
COVID Response
HAI supported the government of Odisha to mitigate the pandemic risk and carried out the following:
disinfectant spraying drones were deployed in Municipal Corporation jurisdiction of Bhubaneshwar and Cuttack. However, due to a WHO advisory on spraying of disinfectants, this activity was halted mid-way
surveillance drones with high decibel PA systems were used in Delhi to spread public safety awareness about the risks of COVID-19 and associated government advisory through the cooperation and supervision of police officials
COVID-19 hotspots in Cuttack, Bhubaneswar and Jajpur were brought under micro-surveillance through PA & surveillance drones
Drone based surveillance of quarantine centres were conducted in Dwarka, Delhi and in 4 hotspots in Karnataka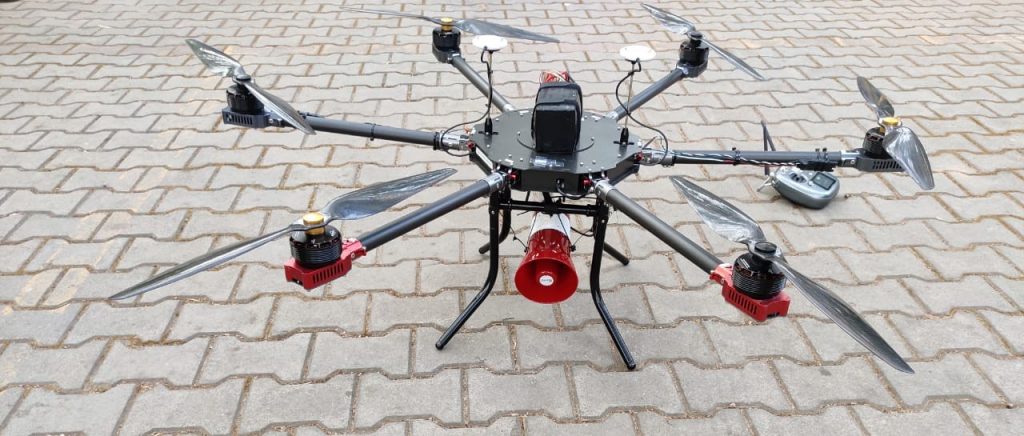 Drone pilot training
With the realisation that more skilled pilots could have been helpful to upscale the drone-based activities to the entire state, HAI, in collaboration with the Odisha Skill Development Authority, initiated a three weeks' drone pilot training for 10 individuals. 5 participants in the programme were government nominees and the remaining 5 from non-governmental organizations. 2 of the government nominees were women, making them the first women drone pilots in the state of Odisha. This training course, first of its kind, could be considered a historical feat for the Indian technological landscape. See the report here: HAI Report on fast track drone training course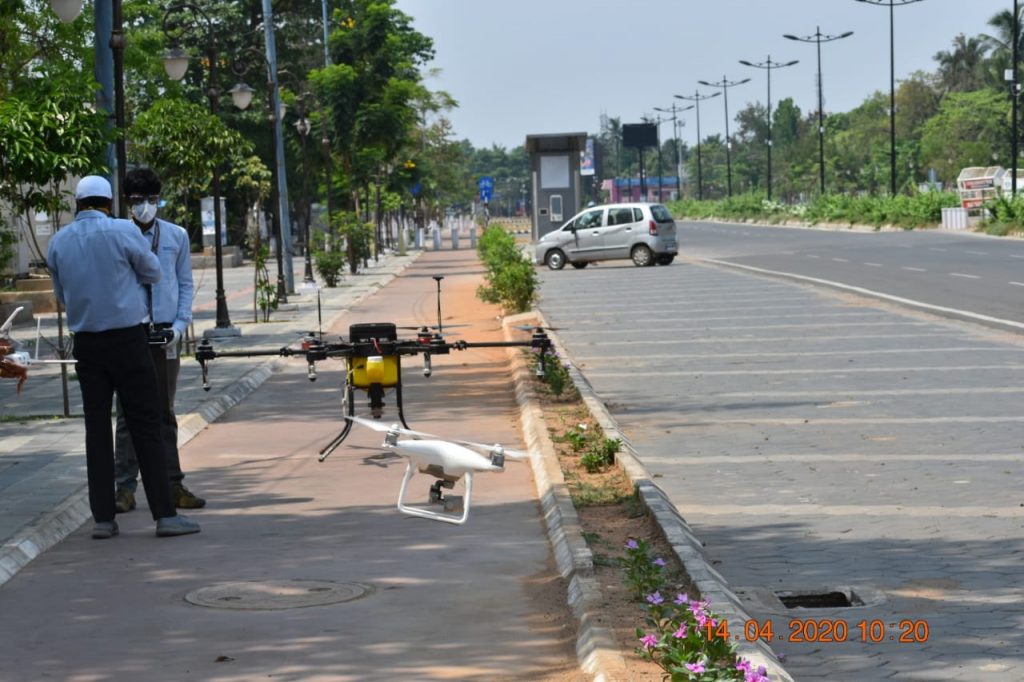 HAI has initiated further discussions with the Government of Odisha for replicating the drone pilot training, initiating a 'Drone Pilot cum Entrepreneurship' training and 'Training of Trainers' program to help set up a Drone Pilot Certification institution and help initiate education in drone science in the technical training institutions in the state under the auspices of the DTET (Directorate of Technical Education and Training) and the OSDA (Odisha Skill Development Authority).
Also see report on Pilot Trial of Drone based Integrated Techno-Humanitarian Approach to COVID19 Response State – ODISHA
More on Tech4Aid Program
Tech4Aid is an inclusive platform of drone owners, registered drone pilots, Artificial Intelligence data analysts, Humanitarian professionals & organizations, and Institutions for actionable interventions not only during humanitarian crisis but also during normal time focusing on preparedness & mitigation measures with continuous study & assessment throughout the year.
Members of Tech4Aid can come together either in a voluntary manner or at best at a humanitarian cost.
DfH will follow a strict code of conduct with respect to application of drones & supporting tools.
Code of conduct will be based on core humanitarian principles leading to fair humanitarian practices to ensure dignity to people & adequately address humanitarian imperatives
Purpose of Tech4Aid Platform
The purpose of this platform is
to promote safe and responsible use of drones in humanitarian settings with a comprehensive country wide Humanitarian Drone Network.
to engage in all activities related to disaster management; risk assessment; damage & loss assessment; hazard mapping and its forecasting; and climate change mapping, adaptation and mitigation; etc in order to help all stakeholders including governments and other humanitarian actors in decision making for quick, accurate, and appropriate interventions.
to engage in all activities of humanitarian & development sectors on issues related to health, education, social, demographic, agriculture, water resources, forest, infrastructure, environmental, economic, etc.
to get engaged in promoting an appropriate ecosystem by imparting knowledge and awareness among humanitarian organizations, young professional like technology students, volunteers, etc.
to engage in policy advocacy to facilitate development of enabling environment for use of technology for development governance and humanitarian action.
Do note that the project does not engage in the non-humanitarian works like surveillance of extremism or any kind of spying activities as it considers to be outside the scope of humanitarian services
Promoters of Tech4Aid
HAI and CDDMASS jointly promote this inclusive platform in collaboration with the humanitarian players in the civil society, corporate sector, and the central and state governments in India.
Any interested individual, organization (profit or non-profit), and institution can become member of Tech4Aid platform by pledging expression of interest. Just pledge to undertake activities at humanitarian cost purely as a service in humanitarian crisis.
There is no membership fee.
If you are interested in getting involved in the project, please feel free to contact us.
HUMANITARIAN AID INTERNATIONAL
113, Princess Park, Plot 33, Sector-6, Dwarka,
New Delhi –110075, India
Phone No. +91-9953163572
Email: info@hai-india.org
www.hai-india.org
CENTER FOR DEVELOPMENT AND DISASTER MANAGEMENT SUPPORT SERVICES
2nd Floor, Building No.753-A, Block-H,
Ansal's Palam Vihar, Gurgaon-122017, India
Tel: 91-11-41026642; +91-9811310841/9899592306
E-mail: nmprusty@yahoo.co.in, nmprusty51@gmail.com