The severe cyclonic storm 'Amphan' is fast proceeding towards north-western direction and may hit coastal parts of West Bengal covering three major blocks of South 24 Parganas district- Sagar, Namkhana and Patharpratima during 19 – 20 May 2020. These three administrative blocks of South 24 Parganas district have a total population of around 900,000 living in 8 gram panchayats (GPs) in Sagar block, 5 GPs in Namkhana block and 7 GPs in Patharpratima block.
Central and state authorities have also made preparation ahead of the landfall. Extend the next section to know more about it.
Government's preparation ahead of the Cyclone Amphan Landfall

There are 40 cyclone shelters and 50 secondary and higher secondary schools in these 20 GPs. Out of these, 20 shelters are now being used as quarantine centres. The remaining 20 are being prepared as rescue centres. Also 40 schools, including secondary and higher secondary schools will be used as rescue centres.

National Disaster Management Authority (NDMA), District and Blocks Disaster Management Authorities are trying to sensitise people through disseminating early warning and networking with Civil Society Organisations (CSOs) and Self Help Groups (SHGs). Panchayat and Block Development Committees are trying to bring the families, living in kuchcha (mud) houses with thatched or tiled roofs to the cyclone shelters or the school buildings.

Each of the 20-cyclone shelters can accommodate around 2,000 people. The schools could also accommodate the same number of people. Therefore, altogether 120,000 people could be accommodated in the cyclone shelters and school buildings.

The Panchayat and block level authorities are trying to provide safe space and dry food materials to the people having taken shelter there. But there is no dedicated space for pregnant women; there is no hygiene kit for women and adolescents during the period of displacement. Since the doctors and paramedics are already overwhelmed in Covid19 response, the medical facilities are non-existent. As of now, no evacuation plans have been made for domestic animals like goats and cows, which play significant role in rural economy.

Panchayats are making preparations to remove/ redress the uprooted electric poles, big tree trunks etc. to keep the communication intact and mobility smooth. Panchayats are also trying to arrange water for drinking and sanitary purposes and to prevent chances of outbreak of water borne diseases. They are also sensitising people on the cyclone related risks and prevention from coronavirus, such as, social distancing, usage of masks, sanitisation, frequent handwash etc.

Partially the government is planning for emergency transports like ambulance, boats etc. All Panchayats are kept open and have been turned as control rooms for monitoring and providing services during next few days. There are dedicated teams in each of the GPs. All the GPs have requested community members, having private cars and mechanised boats to make them available during the crisis response.

The police force and other volunteers of the task force are also on high alert and prepared to extend support in evacuation, search & rescue.
The presence of HAI to assist in the disaster response to Cyclone Amphan Landfall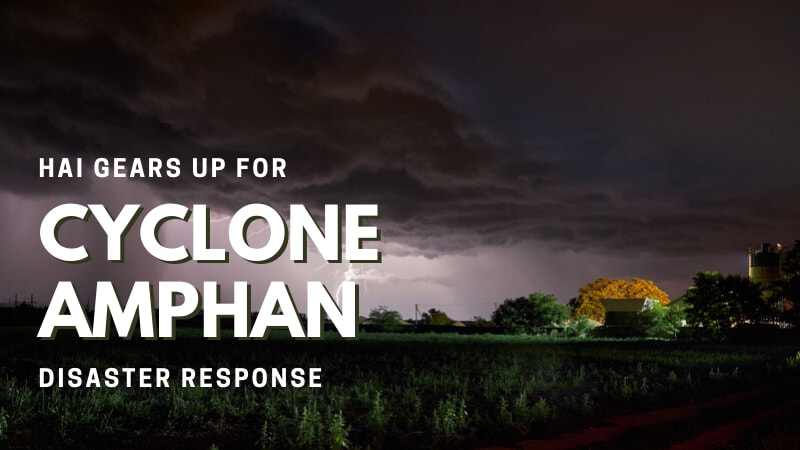 HAI has initiated discussion with NDMA and offered support for drone-based assessment, surveillance and information dissemination.
HAI is present in the area through its couple of member organisations, including Sabuj Sangha (SS), which has a well-equipped health centre at the border of Patharpratima and Mathurapur II. SS has a dedicated and experienced workforce to respond to the upcoming situation in all the three vulnerable blocks. A competent group of medical professionals including doctors and nurses are on standby. SS has four ambulances and a 30-seater bus for emergency transportation of people as well as for humanitarian aid.
SS has also constructed a few Cyclone Shelters in Patharpratima block per the following details:
2 Cyclone Shelters at Braja Ballabhpur Gram Panchayat;
1 Cyclone Shelter at Sridhar Nagar Gram Panchayat;
1 Cyclone Shelter at Achintya Nagar Gram Panchayat;
1 Cyclone Shelter at Laxmijanardanpur Gram Panchayat and
1 Cyclone Shelter at Herambagopalpur Gram Panchayat
Through SS, HAI has initiated coordination with GPs. Volunteers have been deployed for early warning, rescue.
Actions to be taken by HAI
Making arrangement of first aid and other health services for displaced population, particularly for elderly, pregnant women, newborn babies and other ailing people
Setting up temporary maternity units at all the rescue centres;
Provisions of hygiene kit for adolescent girls and women at all rescue centres;
Animal care support near the rescue centres
Provision of adequate supply of dry food for all rescued people for at least 3 Days
Deployment of volunteers to ensure prevention of coronavirus spread among the displaced population
Other arrangements, such as, supply of drinking water, electricity, generators, etc.
You are always welcome to make a donation so that we at HAI are always prepared to help people in disasters like super cyclone Amphan.