Floods are an almost annual phenomenon in the state of Assam. This year, incessant pre-monsoon rains and landslides have caused havoc across the state and affected 31 districts. The district Nagaon is amongst the worst affected, where 226 villages are badly affected. According to the Assam State Disaster Management Authority (ASDMA) bulleting, as of 21 May 2022, 339,427 people are badly affected in the district. Heavy inundation has caused crop loss in 14263.87 hectares of land. 110 relief camps have been set up in the district to accommodate 16,349 displaced people, while many more are spending nights under the open sky. Over 100,000 animals have also been affected.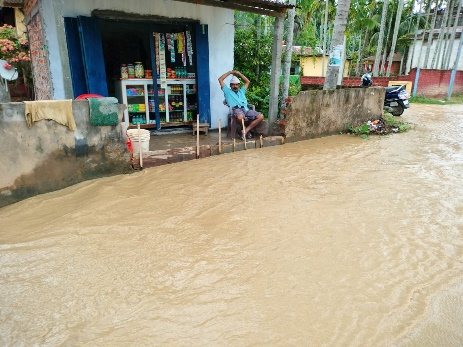 While a detailed assessment has yet be carried out to ascertain the extent of damage to lives, livelihoods and properties, which would be done by the state and humanitarian organisations once the water recedes, the ASDMA, through a SoP, has asked humanitarian agencies to provide the following relief items to the overwhelmed population:
Dry Ration / food
Sanitary napkin
Clothes (new)
Baby food
Sealed packaged drinking water
Utensils (new)
Sanitary supplies / Hygiene kit (soap, bucket, mug, toothpaste etc.)
Baby Diapers
Halogen (Chlorine tablets)
First Aid box
Bleaching powder
Other essential commodities for immediate relief of the affected people like mosquito nets, mosquito coils, tents, candles, matchboxes, lamps, torchlight, biscuits etc.
HAI's Response Plan
HAI has a presence in the state through its member organisations NEADS and AGUP. Our first situation report was published by ReliefWeb on 18 May 2022. HAI is preparing to start providing lifesaving relief support primarily to the displaced population. HAI is also preparing for a detailed assessment (using technology and conventional methods) to determine the interventions under-recovery and rehabilitation phases.
A small donation from you will help us reach out to more people with food and water and meet other necessities.
Help the Relief Response for Assam Floods
₹25,458
of
₹30 lakh
raised
HAI is preparing to start providing lifesaving relief support primarily to the displaced population. Your donation will help rebuilds the lives impacted by the devastating floods.